Benzene265


Joined: Jul 18, 2005
Posts: 6036
Status: Offline
---
So, you've come up with the next Poker; a puzzle so brilliant that the old salts of the forums will declare a new era. You'll be right up there with Classic Drinking and the Global Purse. Unfortunately, you have no visuals. Without an illustration, the visually-inclined audience doesn't realize how great your puzzle is. Well, I'm here to help!

I assume you already have a graphics program of some sort. If you're a greenie at computer drawing, I recommend you leave it to MS Paint, for now. Once you've mastered the basics and get tired of one layer, you can move on to GIMP or Inkscape.

Now that you have your graphics program open, you'll need a grid. I've yet to see a puzzle game that wasn't on a grid of some sort. This site generates grid PDFs for you. Just make the cells the same size as your game pieces, then copy and paste into your graphics program. You could even print the grid out and hand-draw.

The grid is the hard part, actually. Once you have that, it's easy to line up your pieces. Don't worry about what the pieces look like. Playablity is far more important than graphics. Here's a not-to scale representation of a puzzle we're all familiar with. The grid came from a graph paper PDF, the rest was flood fills and the Wingdings font.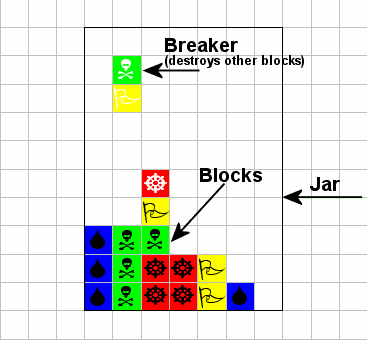 There are plenty of people in the forums who can make your proposal look pretty. But, it helps a lot if you can make a crude sketch for the programmers and artists to work from.

Thread title edited by CraftingProj.
----------------------------------------
A Ghyslaine and a Rhodin for every Ocean, but mostly on Viridian.
Make the natural choice for our oceans: Google Rhodin Blonde!
----------------------------------------
[Edit 1 times, last edit by CraftingProj at Aug 7, 2007 3:01:42 PM]
| | | |
| --- | --- | --- |
| [Apr 7, 2007 11:40:11 PM] | | [Link] |