Keaze


Joined: Jan 27, 2013
Posts: 509
Status: Offline
---
Old thread
Hello, all! Sorry if it's still a little messy. I hope this helps with bombing :)
====================
Content
1. Turns
2. The Zone
3. Tentacles and Defendacles
3.1 Tentacles
3.2 Defendacles
4. Kegs
5. Safest bomb placements (Skip here if you know your basic info.)
6. Glitches
6.1 Sinking next to a bomb
6.2 Invisible bomb
7. Useful Links

====================
1. Turns

Here's a video showing what happens in each turn after bombing the head.

Turn 1: Bomb the head. The Kraken's head along with its tentacles will submerge.
Turn 2: Free turn.
Turn 3: Free turn.
Turn 4: Free turn. Tentacles will appear at the END of the turn.
Turn 5: Tentacles will move around. Be sure to be OUT of the kill zone(see below) by the end of the turn. Defendacles will appear at the end of the turn.
Turn 6: The head appears to still be submerged but you can bomb it!

Tip: leave a protective bomb on turn 3 or turn 4. Never turn 5 because you need it for turn 6.
Tip: /Shout "Out of Zone" or abbreviated "OOZ" on turn 5


====================
2. The Zone

The Zone is an 8x8 area that is 3 squares radius from the bubbles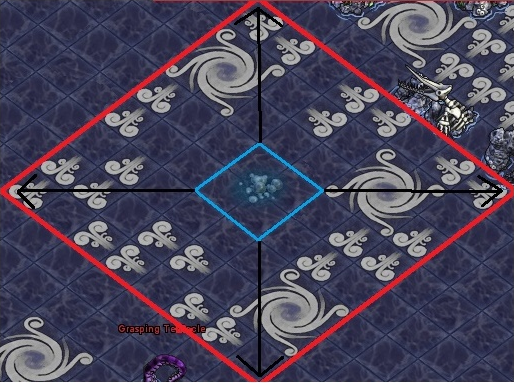 You must be outside it by the end of Turn 5.

====================
3. Tentacles and Defendacles

3.1 Tentacles


Tentacles come in 3 sizes.
The bigger size, the more damage it will deal.
Tentacles move much like ships- they have a direction on which way they're facing.
Bombing a tentacle will cause larger tentacles than its size of the same adjective("Wiggly" in this image's case) to submerge too.

3.2 Defendacles



You can distinguish the difference by its name "<Adjective> Defendacle".



This is The Zone
The BLACK section is where the kraken head is
The RED section is where the defendacles will spawn.

Notes:
There's typically(as in not always) 2 defendacles

Defendacles will go up at the end of turn 5

A defendacle will never spawn on top of a keg

Defendacles can pivot its direction in any way and go forward

Your starting point on the first turn is key. There are 2 defendacles on the board- one will spawn on the 2x8 left side and one will spawn on the 2x8 right side. The defendacles will never spawn on the remaining 4x2 squares at the front and the back. So ideally, you should camp at the middle back or front.
====================
4. Kegs

Kegs will spawn 2 turns after using it and does not stack

Leaving kegs on your path while making your way up to the head is not necessary but it can protect others and you may also receive a cut for doing so. The tentacle's movements are unaffected by where kegs are left.
Kegs should NEVER be left on entrance or exit routes of players. If you're unsure, don't leave it there.

Moving in to the head after bombing it on the same turn will make it look like you're ramming it because of an animation delay. You will not gain damage from this and you should be in the right position at the end of the turn. If you go over a bomb after a during the desync, the bomb turns invisible to everybody.

Warn players where the invisible bomb is when this happens.



Tip: Drop kegs to PROTECT, not to obstruct.The 2 may be confusing so ask yourself if the bomb is necessary first or you just want it there.

====================
5. Safest bombing placements

Remember, Defendacles will NEVER spawn on top of a keg. So these are the most efficient bombing placements you can have on the maps which guarantees safety from defendacles.

Triangles are where you should be before you can bomb
Circles are the kegs I'd place
The numbers in the circles represent which bomb I would prioritise
I wrote the moves for bombs that people may find difficult to place below the maps. (1) =

on the map image

#1Tip: Put yourself 2 spaces away from the triangle at Turn 4 and move to the triangle at turn 5 so you're less vulnerable to tentacles.
Minefields around your route is useful too but this takes time to set up and may obstruct the fast route. Note: this is to only be set up once your safety bombs against the defendacles are in place.
This is an example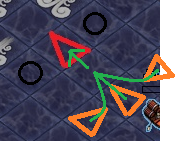 This is where I'd want to be at the beginning of Turn 4 and I move in to the red square by turn 5. Of course, you prioritise getting to the red arrow before taking this tip. Doing this is just a safer precaution.
Personally, I like being 3 spaces away from The Zone when I do this.
The black circles are an example of what a minefield around your route is.

Some of these can vary like on map 5** where you can bomb one square to the left and it'd still be safe
You dont have to be on the triangle facing the pay I put it. a square on the left facing right or right facing left. Like this.

(Exception to map 5**)

There are some winds under the starting points but I'm pretending its not there cause it wont always be. Sometimes these route are blocked off completely.

Map 1

F L
(1) F L# x R, R x x x, L# L L x, ........
F L
(1) F L# L x, L F F x, L F# L x, .......

Variation if the right side is closed off and also an easier loop for the bomber

Map 2


F
F L
F R
Purple route: You can sink from the purple route if a defendacle spawns facing you. If it spawns on the whirlpool, I'd stall 1-2 turns.

Map 3


F R
(1) F #R L x, F R R x, #R R R x, ........
(3) F #R L x, L L x x, F# L x x, ........
F L
F L
(1) F L L x, F x x x, x x x# L, .......
F R
Green route: You can sink from the purple route if a defendacle spawns facing you. If it spawns on the whirlpool, I'd stall 1-2 turns.



This variation allows speedboats to cross the map from the top in 7 moves compared to 9

Map 4


F R
F R

Map 5**

R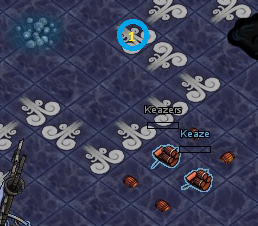 This is a tandem bombing
Keaze goes F F - -
Keazers goes F #R - -

Map 6


R
Tandem bombing from the front

FL#
PF
Map 7

F
(1) #F x R R, x x x x, #F x F R, .......
Red route: A few bombers would do 1 square to the left of the triangle because the loop is easy but it's not actually safe from the defendacle that spawns on the right so avoid that!
F R
(1) F #R x F, R x R x, F# L x x, ........
(2) F #R x F, R x x x, x# x x x, ........

Map 8


F R
F F
Map8: Blue route: You can sink from the blue route if a defendacle spawns facing you. If it spawns on the whirlpool, I'd stall 1-2 turns.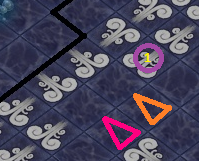 Tandem bombing from the front


F X




F R


-or-


F L




FX



====================
6. Glitches

6.1 Sinking next to a bomb
You may have found that sometimes, a bomber sinks after bumping in to something while there's a bomb adjacent to you. There's 2 scenarios where this happens so try to avoid getting in to it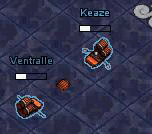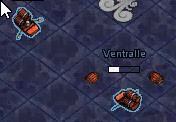 1. (left image)When there's a bomb to the EAST and you turn LEFT
2. (right image)When there's a bomb to the SOUTH and you turn RIGHT





And I think it's whatever you bump in to- player, rock, head or tentacle.
(Note: both bombs to the south. Left image has Keaze facing west while the right .gif has Keaze facing East. Both turn right)

For the luls...only one sinks when you do both




6.2 Invisible bomb
This happens when you turn in to the Kraken right after bombing it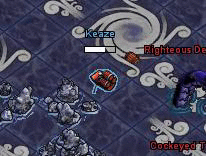 Tip: Warn the ship exactly where the invisible bomb is an replace it as soon as you can



====================
7. Useful Links
Tinyurl.com/KrakenBombs for this thread
Tinyurl.com/KrakenZone for a visual aid on where the zone is
Tinyurl.com/KrakenDown for bomb placements
Tinyurl.com/KrakenGlitch for this bomb glitches section.
----------------------------------------
Keaze
That Bombing Guide

| | | |
| --- | --- | --- |
| [Jun 25, 2016 10:32:36 PM] | | [Link] |