MaxPain


Joined: Mar 10, 2005
Posts: 105
Status: Offline
---
A lot of you have probably seen the maps of other oceans that include route difficulty, but I don't think there was one for either Sage or Hunter (or Emerald as a whole). I saw a guide once that explained how the league point difficulty is calculated, but I can't seem to find that anymore, so I came up with what I think is the closest thing to the way the difficulty is calculated.

I used an image editing program to measure the saturation of the league point fill colour and then created a spreadsheet of all the values and calculated average difficulty values for several routes (summing up the values for each league point and dividing them by the number of league points on that route). I got a highest value for Wissahickon-Beaufort Islands, which in this case represents a difficulty of a 100% and then calculated the other values relative to it.

So, here are the values that I calculated in per cent, it's mostly routes that are labeled as yellow, orange or red.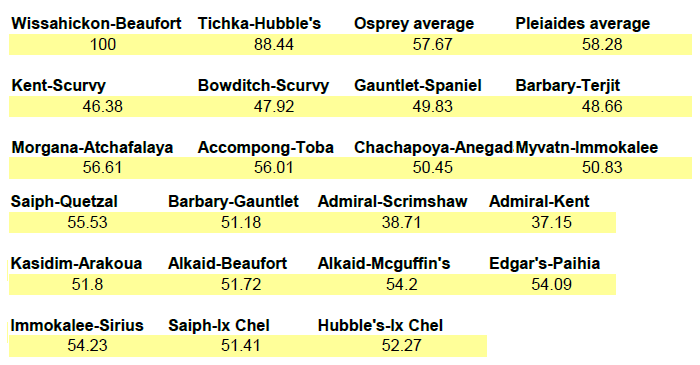 Osprey and Pleiaides are mostly the same difficulty all over, so I took them as a whole. As mentioned, Wissahickon-Beaufort Islands is the reference value and the other values are calculated in per cent relative to it. Higher value means that the route is harder.

I hope this will help out some of the new pillagers in their choice of a pillaging route.
----------------------------------------
Icce on Sage
----------------------------------------
[Edit 2 times, last edit by MaxPain at Jan 14, 2014 12:47:11 PM]
| | | |
| --- | --- | --- |
| [Jan 14, 2014 10:22:55 AM] | | [Link] |