mikaela1357


Joined: Aug 19, 2006
Posts: 253
Status: Offline
---



What is Werewolf?
Werewolf is a role playing game, that some know as a party game in real life. But an old friend has taken Werewolf to Puzzle Pirates! A few years ago, a hearty named Gigas, started this is in his townhouse, and I would help out. I loved the game so much, that now I am continuing it!

Where do you play?
The game is held at Sugarland's Townhouse on Wrasse Island. You may /tell me asking for a whisk if there is a game.

Is there a price you have to pay, to play?
For now, there is a small entry fee. What you pay gets added up to the poe prize. I've mostly done it with everyone paying 1k, but some recommend that we kick it up a notch, and put more in for a prize. This is not a scam. (See below)

How many people play at once?
I usually start with about 12 people.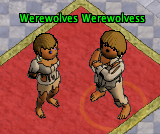 Okay so most importantly, how do you play?
First, we will all join in one large circle. The host, Stormi, will lead you through the game.

Night:
First it will be nighttime, and the lights go off. You should not talk at night, for you are sleeping. I then in /tells tell you your role. (See below for roles) NOBODY should know your role except for the host, Stormi. (Some roles have exceptions.) Once you know your role, you do anything you need to, and then the lights come on, and it becomes day.

Day:
First off, the host, Stormi will give updates on what happened last night, and she will announce who was eaten by the werewolves. That person is now eliminated from the game. Then I will give everyone a moment or two to talk to each other out loud. Werewolves try to hide the fact that they are a werewolf. Don't give yourself away. Then when I say it's time to vote.......

Voting:
When it is time to vote, you will send me (Stormi) a /tell of who you vote to be "burned". (Or kicked out of the game.) You are voting on who you think the werewolves are. Please only say your vote once, as it will only be counted once. The werewolves vote too, just to keep the game fair. Then the person with the most votes is kicked out of the game. If there is a tie, it will be settled a way I decide.

After voting, a new round starts and the same thing happens until there is one winner.
Your roles stay the same each round, unless changed by the Thief.

Roles:

Werewolf #1: You will decide with Werewolf #2 at night (through tells) on who you want to eat. Then you /tell Stormi.

Werewolf #2: You will decide with Werewolf #1 at night (through tells) on who you want to eat. Then you /tell Stormi.

Thief: You will pick any pirate that is playing, and /tell Stormi their name. Then starting next round, you will switch roles with them.

Silverkeeper: You hold silver, which means you cannot be eaten by the werewolves because they are scared of the silver. You may hold or pass it too a friend. You will get it back the next round if you pass it.

Shielder: You hold a shield, which means you cannot be voted. You may hold or pass it too a friend. You will get it back the next round if you pass it.

Spy: You /tell Stormi a name in the room and then I tell you their role, you are to keep it to yourself though. Please do not tell the others.

Villager: You are an innocent villager that does not do anything.

_____________________________________________________________________

So, when are the games?

(One is not currently scheduled.)
----------------------------------------
Stormi
Midnight Ocean
Awesome Avatar By Cattrin
----------------------------------------
[Edit 3 times, last edit by mikaela1357 at Jan 21, 2012 7:02:57 AM]
| | | |
| --- | --- | --- |
| [Jan 5, 2012 2:49:18 PM] | | [Link] |