yrrab2


Joined: May 9, 2005
Posts: 292
Status: Offline
---


Time for some ole' piratery poems!



Event Description



Each participant will have to write a poem, short or long I won't bother! but it has to be Puzzle Pirate related!



How to enter



- Find Weeding online
- Entry Fee: 1000 PoE per Poem



How long does this last?



Starting Date : 10th November 2011
End Date : 20th November 2011

Winner will be announced on the 25th of November 2011



How to win



The most fascinating poem will win the contest! me and 4 more judges will decide who the winner is, the judges names will not be listed now until the end of the event.

Judge 1 - Weeding
Judge 2 -
Judge 3 -
Judge 4 -
Judge 5 -



Participants



- We need at least 5 participants for this event to be held.
- Participants may reserve as seat by PMing me their in game name.

-Subpose
-Aishers
-Martobain



Prizes



There is only 1 winner! and the Prize will be...

- Stocked Sloop
- 25,000 PoE
- Trinkets

Other prizes will be given for those poems that the judges and me like but didn't make it to first place.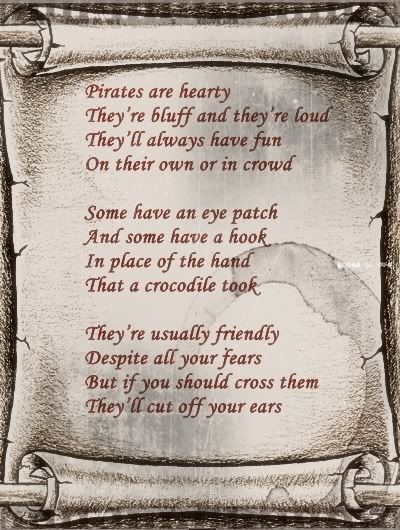 ----------------------------------------
Weeding
----------------------------------------
[Edit 7 times, last edit by yrrab2 at Nov 11, 2011 7:06:30 AM]
| | | |
| --- | --- | --- |
| [Nov 10, 2011 7:32:20 AM] | | [Link] |