Wheebiscuit


Joined: May 24, 2005
Posts: 660
Status: Offline
---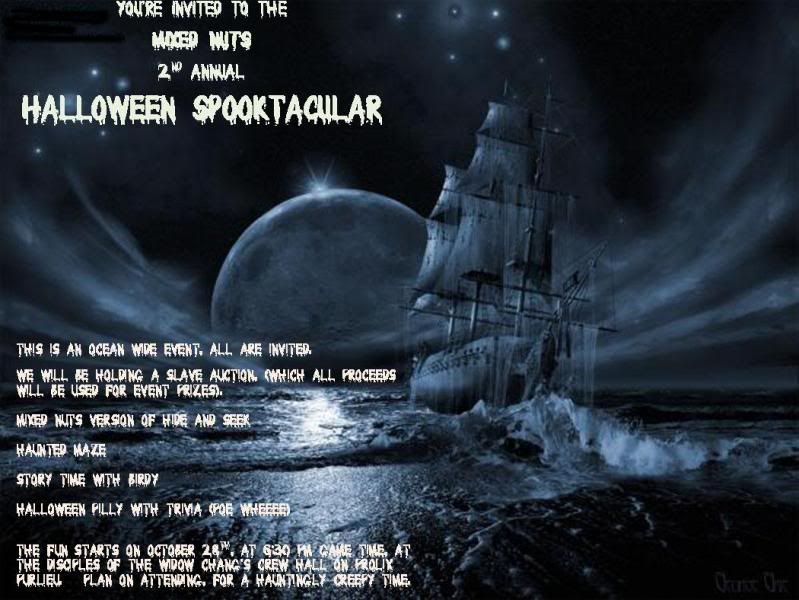 Yarrrrrr!! It's that time once again for the Prolix Spooooktacular Paaaaaarrty!! Once again, Mixed Nuts and their friends will be hosting a Spooktacular Event on Friday, October 28th to celebrate All Hallows Eve. There will be contests, auctions, prizes, and fun for all pirates, and yer all invited to paaaarrticipate!

Where: Disciples of Widow Cheng's Crew Hall on Prolix Purlieu [in Le Maison de Nuix]

When: Friday, October 28th starting at 6:30 PM Pirate time (9:30 PM Eastern USA Time)

Who: Everyone! Come one, come all! Just knock on the door, and someone will let ye in.

What: There will be several events for everyone to have fun with...



An eerie moonight madness maze! Find your way through without falling into the pool if ye can! Free rum to all who navigate their way to the kitchen.

A slave auction! Bid for and win a slave, and he/she is yours to do your bidding for two hours of pirate time. No, you can?t ask them to trade you their familiar or pets or clothes or ships or anything inappropriate, but you CAN ask them to do labor for ye, or sing ye a song or three, or bilge for ye. If a paaaarrticulaaarr pirate has a restriction, you will know about it before the bidding staaaaaarrrts. So far, the potential slaves include: Aarghbird, Vixenwench, Billshakes, Vampyone, and some who wish to be a surprise, with more to be added! Oh, the PoE you ask? It will ALL go into prizes for the paaaaarrty!

Story time and scavenger hunt! One of the flag members (not saying who in advance) will tell ye a story - a spoooktacular story to be sure. Then we will announce the rules for the scavenger hunt! Rest assured, there will be wonderful prizes for this event, and some fun trinkets for those that do well at it! There might even be a Haunted or Rogue Sloop for some lucky paaarrticipant!

Costume Contest! Unlike last year (the Costume Contest took way too long) there will only be a Best Overall winner. Remember the PoE from the Slave Auction? THIS is where some of it goes! (The other prizes are paid for by the Nuts.) The judging will be done informally by the Nuts, and everyone can let us know who / what their costume represents.

Tournaments! While all this is going on, the usual game tables and local tournaments will be available. No huge prizes here, just fun! Make a team, challenge another flag to beat ye! Drink them all under the table! Pummel them senseless! Slice them to pieces! PoE from the Slave Auction will fund the tournaments.

Trivia Pillage! Vixenwench will be asking a bunch of Triva Questions (she has lots and lots she says) worth 500 PoE each! We will all go pillage on an appropriate sized Haunted or Rogue vessel - probably the War Brig Supernatural Wrasse. We might even make some PoE while we are at it. Guest navvers will be welcome assuming they have a costume and are at least Distinguished at Bnav. Any PoE from the Slave Auction that hasn't been handed out by the end of the pillage will be added to the booty and split among all pillagers.


So dig out that costume you have been dieing to wear. Practice yer eerie howls. Come one, come all, and have Nutty good time. Yarrrrrrr!!!

Aarghbird
Monarch of Mixed Nuts
P.S. Thanks Vixenwench, for the Aaaaaaarrrrsome Poster!
P.P.S. Megathanks to Soulmotion for putting together so much of this event, including the awesome maze!!

Edit to fix typo in date - never post after midnight
----------------------------------------
Aarghbird of Cerlulean
Monarch of Mixed Nuts
Captain of Rum by Gum
Chief Mixed-Up-Nut

Avatar by the arrrsome Billshakes
----------------------------------------
[Edit 1 times, last edit by Wheebiscuit at Oct 28, 2011 8:04:58 AM]
| | | |
| --- | --- | --- |
| [Oct 25, 2011 10:28:40 PM] | | [Link] |