Quizzical


Joined: May 11, 2004
Posts: 1811
Status: Offline
---
Let's start by considering the goal of sailing. The purpose of sailing is not to clear the board or to break targets. Clearing the board is no more the goal of sailing than grappling is the goal of pillaging: it's something that you're likely to do along the way, but a means and not an end.

The goal of sailing is to keep your sail in as good of a state as possible as much of the time as possible. This will either give the ship more speed on the high seas or provide more move tokens for your ship's battle-navver while in battle.

You obtain points by breaking blocks, whether a 4 in a row or a target. Your number of points over the course of the past few minutes is divided by the number of pieces you've placed. There is also a relatively small modifier for the amount of time you've taken, as taking longer to make exactly the same moves will hurt your score. This gives some number for your performance thus far, and the higher the number, the better the state of your ship's sail.

Breaks that either take out a square block which is there when the puzzle starts, or take out a target which specifies which color blocks you need to fill it with, are worth more points than just breaking some of the round blocks that fall from the top of the screen. As such, it is better to get these types of breaks than to only break the round blocks that fall from the top.

But the real key to scoring well is combos. A combo is where you get a break, and then the break drops some blocks to immediately cause another break, without you having to place any more pieces. You can chain these together such that one break triggers a second, and then a third, and a fourth. The second break is worth double points, the third worth triple, and so forth. The game will count breaks for you, displaying Double, Triple, Bingo, Donkey, Vegas, and so forth, with any subsequent breaks also being Vegas.

The way to get the big points is to combine both of these methods. Set up combos that break targets on the end of them. The easiest way to make a combo is to fill in all but one spot of a target, and then get a break that drops the correct block into the hole. The place to start here is with a double that breaks a target on the second break. For example, something like this: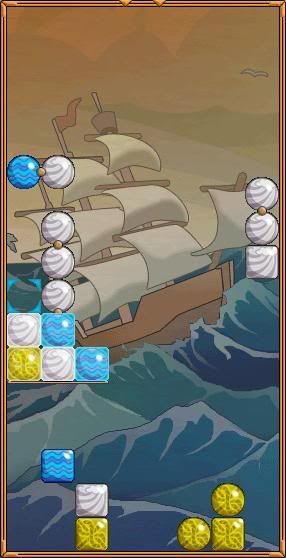 Note that the first break doesn't take out any target. It's rarely good to have your first break in a combo take out a target, as you can usually stack blocks above it to add another break at the start.

You can do reasonably well by just making a bunch of doubles that break targets on the second break. To really score well, though, you'll need larger combos, such as triples and bingos. The usual approach here is to just take what was done above, and chain it repeatedly. Set up a target that you're going to break to have a protruding block that it will then drop on another target to fill in the last hole, continuing the combo. Chain this as many times as desired, and be careful not to break anything before everything is set up. For example, a typical combo could look something like this: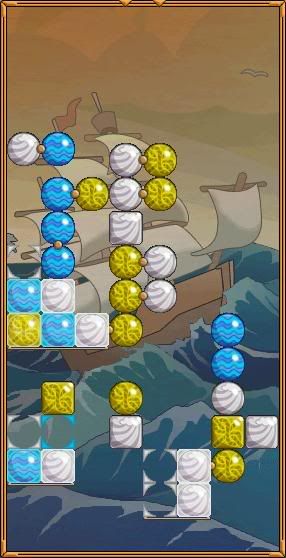 Don't enter the puzzle thinking that you need to get a vegas, though. If your score is high enough that your sail is sparkling, it doesn't matter whether you have just barely enough points for that, or you have more than double the points you need. The problem with the really big combos is that they often take a very long time to set up, and your sail won't be doing very well in that time since you're not breaking combos to get points.

If you see an easy way to extend a bingo to a donkey, or a donkey to a vegas, go for it, but don't try to force it when it's not available. The right level to keep the sail sparkling is doubles and triples and bingos, with only occasionally something larger. They key is to get an endless stream of them to provide a steady supply of points; it's entirely practical to keep the sail sparkling solidly for 10 minutes at a time, or longer if you're on a long journey and can concentrate for that long.

It isn't necessary to keep track of everything in a combo all at once. Rather, it is often easier to just check to see that if this target breaks, it will drop a block to fill in that target. If every piece of a combo works, then the whole thing will work when it is launched. Because of this, when I launch a big combo, I usually don't know exactly how big of a combo it will be, and only find out when the game starts counting.

Another important point concerns piece frequency. I think that the pieces are generated by choosing the first of the two blocks randomly, and then choosing the second one randomly independent of the first. Because of this, any two of the nine blocks are equally likely.

But one could well argue that there are not really nine blocks, but six. A yellow-white, for example, differs from a white-yellow only by a couple rotations, so they should be considered identical. As such there are two ways to make each mixed color block, and only one way to make a solid color block, so a mixed color block is twice as likely to come as a solid color block.

Because of this, it is good to avoid relying on solid color blocks to set up combos if you can help it. If you're building and figure that you'll need one double yellow block at some point over the course of the twenty blocks that it's going to take you to set up the combo, that's usually not a problem. If you've got everything set up and are waiting for a double yellow to launch the combo, you could end up waiting a long time, during which you're playing pieces but scoring few points, killing your score.

Try to have spots available such that, no matter what block you get, you'll have somewhere to put it. This typically requires working on multiple combos at once, or at least different pieces of the same combo. Sometimes you simply can't have a useful spot for all six types of blocks, and have to put a block in somewhere where it is simply out of the way, but it's usually possible to have a useful spot for four or five of the types of blocks, so that most of the blocks you get are useful.

Big combos usually require you to have several targets available to chain the breaks. Because of this, if you get down to only one target left, without any progress toward putting it at the end of a combo already built, it's best to just clear the board to get more targets so that you can build bigger combos, even if it means taking out the last target without it being part of a combo.

Other times you'll have a combo set up that just needs the right block to launch in order to take out the last couple of targets on the board. While you're waiting for that block, keep building other stuff, not just placing pieces randomly. If the piece comes quickly, whether you were building something may not matter, but if you have to wait a while, it could make a big difference. Here, for example, is a triple that got extended to a vegas because I had to wait so long for the blue-white block needed: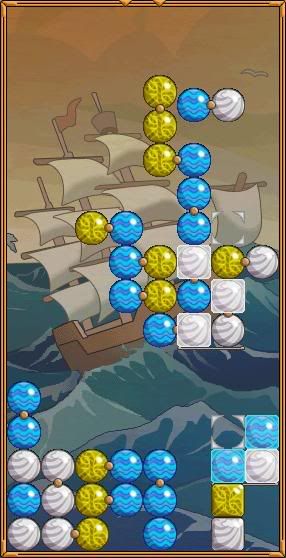 Sometimes, however, it is best not to clear the board, but rather to abandon the puzzle and restart. This will dock you points, but if you've misplaced some pieces and it will take you 20 pieces to clear up the mess, the penalty for restarting the puzzle may will be less than the cost of 20 pieces with virtually no points.

Sometimes you may be given a bad board that is unworkable straight from the start. If most of the targets require yellow blocks, for example, the game isn't going to give you extra yellow blocks to fill them in. In this case, it may be best to reset the puzzle to get a new board.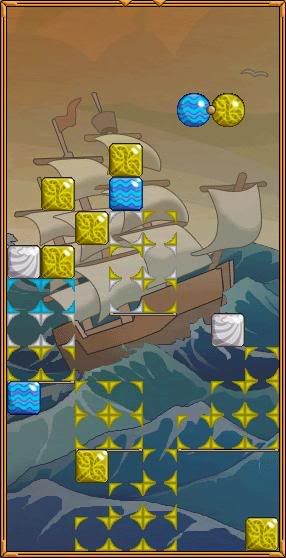 The way that the sailing puzzle works is that a new pirate will start with a very simple one target board. As your rating in sailing goes up, the game will give you more cluttered boards, with several targets and a bunch of square blocks. More crowded boards aren't necessarily harder; indeed, some find them easier because there are more available places to put blocks and score big points for taking out targets in big combos. Still, board clutter can occasionally get out of hand: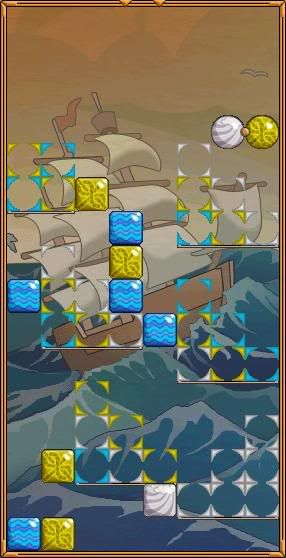 The secret trick to getting the really big combos is something I call splitting combos. The game checks to see if you've taken out any targets first, and then checks to see if you've made any four in a row breaks. The game will not do both a four in a row break and a target break simultaneously. For example, this might look like two simultaneous breaks, but it's really a double, with the target first, and then the four in a row: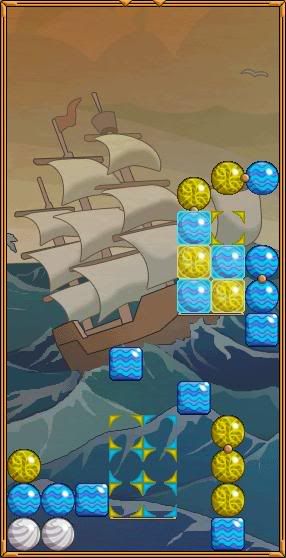 Having a four in a row sitting there while your combo has some targets break, and then having the four in a row break, later, dropping other stuff onto targets to continue the combo, is a nifty way to extend combos by a step or two. Still, as mentioned above, the really big combos are kind of pointless, because any extra points above what it takes to get the sail sparkling are superfluous.

Even a great player on sails will mess up now and then. A common mistake is an accidental four in a row that you don't want to break, which stops a combo prematurely, or perhaps clearly breaks it before it is triggered. Another common mistake is placing a block with the colors reversed from where you want them. Sometimes these are obvious as soon as you make the mistake, but other times they can be a lot more subtle, like this one: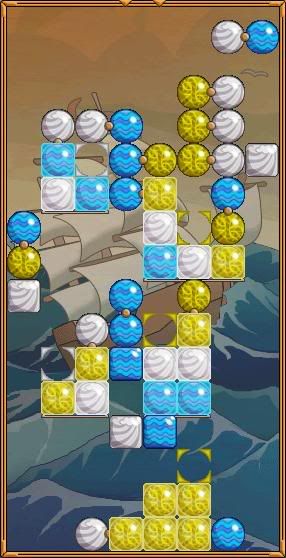 That would have been a double vegas if the top yellow-white had put the yellow on the other side of the white.

And finally, we have a gratuitous, see-I-made-a-big-combo screenshot, a double vegas with two simultaneous breaks on the end of it: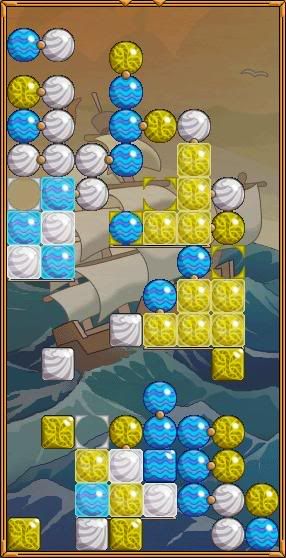 ----------------------------------------
There is no "i" in "complex numbers".