Littlepency


Joined: Mar 16, 2006
Posts: 67
Status: Offline
---
IN recent months, pirates of Cerulean seem to be falling prey to a multitude of strange and concerning symptoms. Do you or any of your loved ones experience:

Itching and/or twitching when anyone utters the word: "Pew"

Stress rising inexplicably from 20% to 100%.

Panic attacks Friday evening, increasing exponentially every minute after noon.

Cold sweats and a shortness of breath at the sight of a Babylon royal loitering on your dock.

Boredom, restlessness and desire to see more than one Flag rule the ocean.
If you answer yes to one or more of the above then Houston, we have a problem! Sadly, there is no cure but a treatment does exist to manage the... irritation.



Netflix and Kill

presents:


(The following event might contain scenes of an immature nature. Not suitable for accounts with two Jolly Rogers or less, puzzler discretion is advised.)

A panel of Cerulean Experts have advised long walks on the beach with an evening of good ol' piratey carnage group therapy where we can all just let it go.

Do, or do not. There is no try. Blockade, we must.

Where: Turtle Island, Delta Island, Napi Peak, Winter Solstice, Nu Island, Namath Island, Labyrinth Moors, Papaya Island and one for luck Tinga Island.
When: Saturday 11th June 2016, Noon start.
Pay: 3,000 PoE/segment We don't have deep pockets but we do have deep ties. You can't buy honor, fairness and brilliance. We'll ditto their pay till our pockets are empty but our hearts will be full. (Selling one Auraluna, in good condition, nags sometimes any day ending in "y" - 10 million or best offer.)
Sinking: Hopefully!
Raffle: You betcha!
Jobbing Contact: Goingdown
All other enquires: Calamarie, Auraluna or Scap

With great power, comes great responsibility and so the islands will be shared with those that have made this possible as well as a few giveaways. Not exactly robbing from the rich to give to the poor, think of it more as a redistribution of the wealth. Come join us to alleviate your symptoms, support your local small flags, or simply for the fun but be there!

Finally to Babylon, May the odds be ever in your favour!

Yours truly,
Netflix & Kill with friends

P.S. Consider the blockade scene shaken, not stirred.

P.P.S. I'm not mad as a hatter; you may have noticed a number of film/movie references throughout the post. First pirate to find all 9 titles wins a fabulous prize! Private message or /tells ONLY to Scap - replies to thread will not count.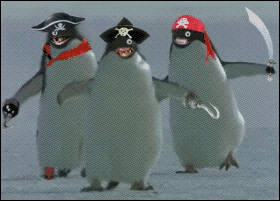 ----------------------------------------
Scap, retired-ish
----------------------------------------
[Edit 3 times, last edit by Littlepency at Jun 12, 2016 7:00:41 PM]
| | | |
| --- | --- | --- |
| [Jun 10, 2016 12:00:24 PM] | | [Link] |