SilveRansom


Joined: Apr 16, 2006
Posts: 3870
Status: Offline
---
This may be jumping the gun, but I have the file working at the moment, and I wanted to take advantage of it.

While I've worked for a while now with 3DS Max, and have whipped up a little tutorial for the Easter egg design contest using that program (found thataway ), Max is an expensive program and the trial version is limited to thirty days and requires registration. Blender, on the other hand is free.

Blender (make sure you get the 2.56 beta... it's approximately 18 times more user friendly).

Of course, you get what you pay for with Blender. Let's just say I'm decidedly not a fan of the program (so if someone else wants to take this and run with it to make a much better tutorial, by all means, please do so... there are probably better ways to do this, and this is very "bare bones" for a tutorial). For the purposes of tinkering with potential Easter egg design, though, a free tool is kind of a Nice Thing. Blender is a free tool, and it can help with some tinkering with designs.

You'll need the files from my MediaFire (free file hosting) link thisaway:

http://www.mediafire.com/?15qfmhpz09w55

There should be five files in there. Technically, you can get by with just the "egg_1.blend" and "basicgrid.png" files. The other two .png texture files are just there for reference (I made both of them for my own diagnostics) and the .obj file is there if you want to try to import the egg into some other 3D package. (The .obj file is a direct export from the Ringer-provided 3DS Max egg from years past. It's just the UV-mapped egg, though, so the camera and edge renderer aren't included.)

Anyway, once you start up Blender and open the "egg_1.blend" file, you should see something like this: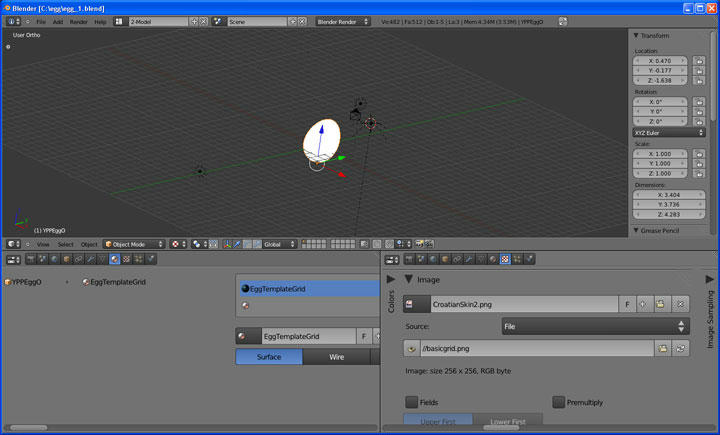 Again, just looking at the basics, you'll want to be able to move the view around a bit and render the image. The default navigation option for Blender has you rotating the 3D view by dragging around with the middle mouse button. Shift-Middle Mouse Drag to slide around the view. Zoom with the scroll wheel.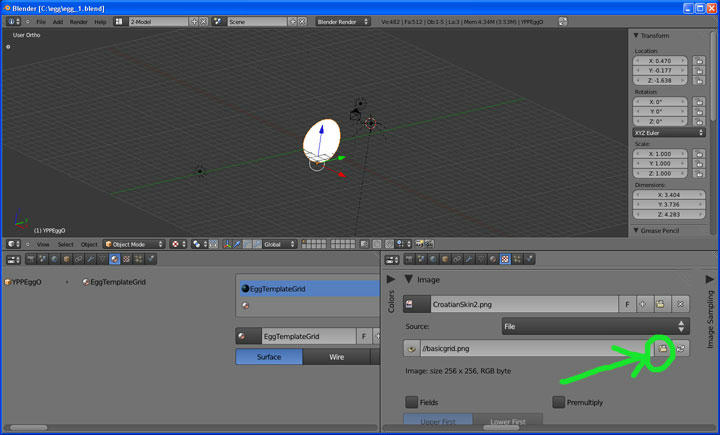 Speaking of your texture, though, you should be looking at that bit in the lower right there, the Texture slot. Click the button I've circled in green there and navigate to your texture like you would in any Windows program, and that should swap your texture in for the one I've set up as the default.

NOTE: For whatever reason, Blender doesn't show the texture in the active 3D window.

YOU HAVE TO RENDER the egg to see your texture applied.

F12 is the Render shortcut, so hit that to see your egg as rendered from the in-scene camera. This is NOT the Ringers' camera, it's just one I've put in the scene to give a medium range view of the egg, along with a few lights.

The Render screen should look like this...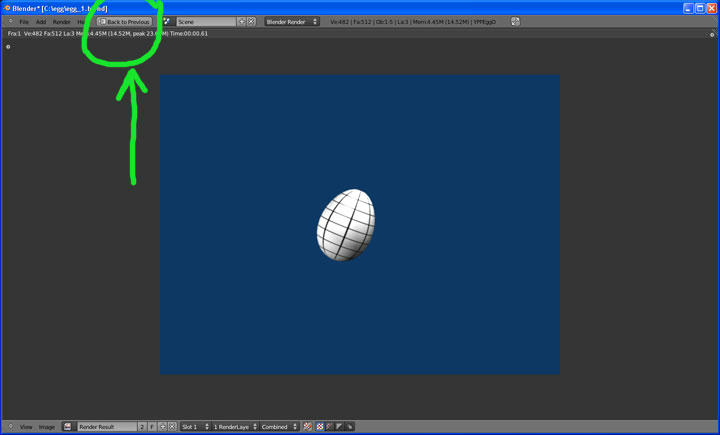 ...and from there, just click on the Return to Scene button (circled in green in the upper left there) to go back to the main Blender interface.

It's an iterative process, going back and forth making changes to your design, slotting in the texture (though you shouldn't have to change it in the main interface if you're saving over the same file name) and rendering it to see it on the egg mesh... but it's at least a tool to use to see if your design is doing what you want it to. The 256x256 square texture mapped to the egg shape creates some quirky distortions, so it's a good idea to tinker a bit and make your submission as good as it can be.

Oh, and if you want to render the egg at a different angle, either rotate the egg or move and re-angle the camera (the little pyramidal box thing floating in the sky). Select them with a left click and the move handles should pop up automatically. Rotation is a bit squonky, though. The "r" key is a shortcut to start rotation, which should then be visually evident. It's a bit of a hassle to really line it up, but with enough tinkering it's possible.

I'll try to keep an eye on this thread to answer questions, though again, I'm far from a Blender expert. Max questions are easier. Apologies if I can't answer quickly, though. Life is a bit busy lately.

Thanks for reading, and an early Happy Easter to all!
----------------------------------------
Silveransom
makes art like this or this &
Blender Eggs!

| | | |
| --- | --- | --- |
| [Feb 21, 2011 9:51:26 PM] | | [Link] |