Posted by budclare2 at Jul 12, 2015 8:47:31 AM
Re: Familiar/Pet Colors Needed


how do you define transparency other than being able to see through it?


By actually knowing how the word is used with regards to computer graphics?

As I already said, if there were no transparency whatsoever, the ice hedgehog and the ghost hedgehog would look the same, or so close as makes no difference. Tweaking the transparency/opacity (depending on your software) greys up the colors, especially dark pixels like the pet's outline.


in addition, although you don't normally play on Cerulean, you can see a ghost rat at High Spirits on Terra and my cat and puppy at the palace on Cnossos if you would like to stop by and have a chat with them


I saw the rat. I searched the palace for ages and didn't see any ghost pets (thanks so much).

The rat looked normal, though as I said in the first place, I think they turned down the transparency at some point. (They did the same to ghost people, as I recall.) The rat is still transparent, but on some backgrounds, it's not obvious unless you take a screenshot and zoom in. I can see the edge of the distillery's still cutting right across the rat's nose.

Actually, once it walks onto the widow queen rug, you don't even need to zoom in to see through it.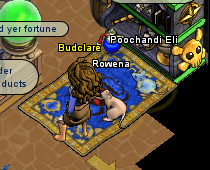 The rat did make noise, though as I already said, all the pets would need to be tested by several people, and even then, the wiki should still have a note that they weren't always this way. And we could try again to make sure it's not just a bug. If turning off event effects does turn the ghost pet noises back on, it's possible whoever read your bug report just assumed you had effects turned off.

Wait, I just tried turning off event effects, and it had no effect on the rat whatsoever. I even logged off and opened a new client. Weird. Maybe it works on some ghost/spectral pets and not others...or they already fixed that bug.
----------------------------------------
Budclare on Meridian

I want a cookie.

(Imp turned me into a dolly! :D)