Posted by Hera at Nov 22, 2018 4:38:05 PM
Re: Periodic Portraits 2019!
Ahoy 2019!! Aye, we aren't quite there yet, but best to be prepared!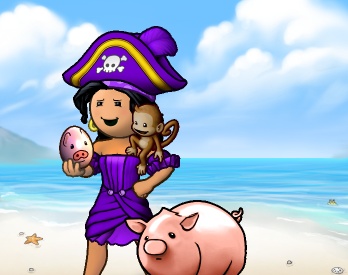 January 01 and it is the first day of a "Happy New YeARRR"

January 07 is Old Rock Day! Celebrate with yer rockin' buddies on board the fine vessel"of rocks"

January 15th is National Hat Day! Time to look dandy while "wearing many hats"

January 31st is Backwards Day! "yaD sdrawkcaB" lessev enif eht draob no etarbelec ot emiT



February 5th is Chinese New Year! Celebrate the start of a new year on board the "Year of the Pig"

February 14th is Valentines Day! Will you celebrate on board "Lovesick Leviathan" or "Love Stinks"

February 20th is Love Your Pet Day! Show off yer favorite pets on the "Fur-ever Fur-ends"

February 26th is Tell a Fairy Tale Day! A good story always starts with "Once Upon A Time"
----------------------------------------
Sun says, "Selling Hera, one careful owner, slightly foxed, very Zeused, for 800 million billion PoE, 250 indigo ribbons, a chipmunk familiar called Robin and a piece of moss!"