melissab


Joined: Jun 28, 2004
Posts: 734
Status: Offline
---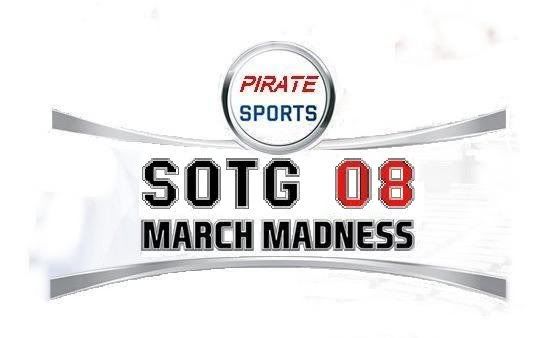 Its that time of the year that college basketball fans wait for - MARCH MADNESS! In celebration of this fine time - how about a challenge to see who can pick the most winners and predict the NCAA championship! Here is your chance at winning various prizes both in-game & RL (US only) PLUS bragging rights!

Here's How It Works:
*Register an account
*Join the group
*Fill out your bracket
*Compete for top score
*Win awesome prizes

Registering & Joining The Group:
*Go to ESPN Tournament Challenge 08 and register an account.
*For easy navigation and registering go Join Tournament Challenge Now.

Step 1: Member Name and Password
*Please use your pirate name as your member name.
*Your password should be private and something easy for you to remember.
*Please enter your correct date of birth.
Step 2: Member Information
*Please enter your correct information is all fields.
Step 3, 4, 5: Random Stuff
*You may uncheck all boxes if you wish.
Submit Registration

*Make sure you use a valid email address. This is not for my use. There are real life prizes you can win and the valid email address is for that use.
*After you've submitted your registration - click 'Create an Entry'.
*Create a name for your entry by typing in your pirate name in the 'Name Your Entry' box. Submit Entry Settings.
*Click 'My Groups+' -> 'Create or Join a Group'.
*In the search field, enter ' Puzzle Pirates'.
*The group password is 'sotg'.
*Join this group!
*If your bracket name is anything other than your pirate name follow these easy steps.
-*Click on My Bracket -> Edit Entry Settings -> Type in pirate name -> Submit
*Please be advised that the bracket owner name will display your first name initial and last name. I've tried to change the privacy settings so that doesn't show but that doesn't work.

Filling Out Your Bracket:
After the tournament field is determined on Sunday, March 16, you can start making your picks on the bracket page 1 hour after the field is finalized.

Go to the 'My Bracket' page and click on the name of the team that you think will win each game match-up. The team name will then move to the next round. Keep picking games until all of the boxes in all of the regions have names in them. You will then need to supply your guesses for the tiebreaker scores. When all of your picks are made and the tiebreaker scores are entered, you must click 'Save Bracket' in order to save your selections. You can change your selection by simply clicking on the other team in the match-up and continue filling out the bracket. Make sure you SAVE your bracket every time you make a change. You can make picks or change your selections as many times as you'd like up until 30 minutes prior to the scheduled start of the first game of the tournament on Sunday, March 20, 2008

How You Score:
This is a point scoring challenge. You are awarded points for each correct win, with points accruing each round. The further you go, the more points you score. The more points you accumulate, the higher you go on the leaderboard. Top score wins!


Point Scale wrote:
Round 1 - 10 points per pick
Round 2 - 20 points per pick
Round 3 - 40 points per pick
Round 4 - 80 points per pick
Round 5 - 120 points per pick
Round 6 - 160 points per pick






In the event of a tie, your entry for the tie breaker will be used to determine the winner. The points awarded are generated automatically from ESPN's bracket management.



Rules on Tiebreakers wrote:

Ties. Entrants may but are not required to submit answers to one (1) tiebreaker question to be used for tiebreaking purposes only. The question is "What will the final score of the championship game be?" If no answer to a tiebreaker question is submitted for an entry, it is given a default prediction of zero (0). It is possible for a default prediction to break a tie. How are the ties broken? The pool of tied entrants is reduced until only one (1) potential winner remains by applying the rules below in the order listed. However, Sponsor may, in its sole discretion, elect not to break a tie and instead to award the 1st Place Prize to one eligible winners (or to all eligible winners then remaining after applying one [1] or more tiebreaker rules). In all cases, an entry that does not win a tiebreaker is eliminated from consideration for the 1st Place Prize:

Tiebreaker #1 - The predicted score of the championship game is compared to the score of the championship game. The differences between the predicted scores and actual scores are calculated and added. The entry with the smallest total difference is considered the winning entry.

If more than one entry has the smallest total difference, those entries go on to the next tiebreaker:

Tiebreaker #2 - Number of points scored in Round 6.
Tiebreaker #3 - Number of points scored in Round 5.
Tiebreaker #4 - Number of points scored in Round 4.
Tiebreaker #5 - Number of points scored in Round 3.
Tiebreaker #6 - Number of points scored in Round 2.
Tiebreaker #7 - Number of points scored in Round 1.

In all cases, an entry that does not win a tiebreaker is eliminated from consideration for the 1st Place Prize.



In-Game Prizes:
First Place: 1 month sub gifted to the pirate of your choice, 1 War Brig, A Gold First Place Medal inscribed "1st Place - SOTG 08 March Madness Bracket Challenge' and an Atlantean Totem Trinket.
Second Place: 1 month sub gifted to the pirate of your choice, 1 Cutter, A Silver Second Place Medal inscribed "2nd Place - SOTG 08 March Madness Bracket Challenge' and a Red Knobby Coral Trinket.
Third Place: 1 month sub gifted to the pirate of your choice, 1 Sloop, A Bronze Third Place Medal inscribed "3rd Place - SOTG 08 March Madness Bracket Challenge' and a Lump of Coal trinket.

These prizes are definite. Additional prizes/poe may be added before the end of the tournament. Donations are being accepted. To donate, please contact me in game or send a PM.

ALSO - if you place in the top 2 of the global leaderboard you will win:(this is why registering a valid email address is important)



For complete list of rules for the prizes/scoring/eligibility/how to play, please refer to the Official Rules.

Onelove's Rules:
*You may only register 1 pirate. DO NOT register your alts. This is a fun event. Please refrain from sabotaging it.
*All participants MUST have an active pirate on the Midnight Ocean. I will verify each participant.
*You are only allowed 1 bracket in the group. You may, however, play up to 10 brackets per person. So for more chances to win one of the real life prizes pictured above, you can join other groups or create other brackets outside the Puzzle Pirates group.
*You will NOT be allowed to swap brackets in and out of the group.
*You must have a bracket in the group to be eligible to win the in-game prizes.
*This is a head to head challenge - so trash talk. You will notice a message board in the group.. USE IT!
*Filling out your bracket is easy, its a simple click! Everyone should join, even if you aren't familiar with College Basketball.
*HAVE FUN!
*And most important - I am not eligible. I will disregard my point value should I place in the top 3 and award the pirate below me the prize. But do expect me to trash talk!

Good Luck ... Bring It On!

Please check back here for updates on prizes and answers to questions.



By the way - UCLA is going all the way!

Edits:
----------------------------------------
Onelove
Please support Boarding for Breast Cancer.

| | | |
| --- | --- | --- |
| [Mar 7, 2008 11:37:08 AM] | | [Link] |