kelzbelz3075


Joined: Aug 13, 2005
Posts: 15
Status: Offline
---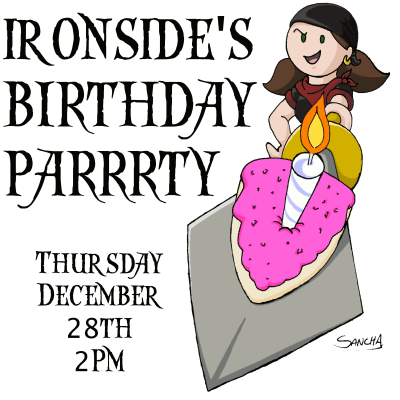 From Dec 21st-28th: Iron Chaos!!
Send any Officer in Ironside a happy birthday tell and they'll give you a jumbled secret word. The pirate who best succeeds at bringing order to the chaos will be awarded first prize. All participants will be awared a secret item for participating. Prizes will be awarded on the 30th, immediately prior to the grand finale.
Please email all entries to: crewironside@gmail.com Don't forget to include your Midnight Pirate name.


First Place - 1500 poe

Second Place - 1000 poe

Third Place - 750 poe



Thursday, Dec 28th: Ride the Ferrous Wheel (slooptastical SOLO sloop racing!)
Show us your "metal"!! Be the first to complete the wheel around Emerald, and win a Shang'd, painted sloop!
Race course - Currently: Eps - Gaea - Wrasse - Guava - Eps.
Sloop racers, please register yourself and your ships in this thread. Race begins at 2pm Pirate Time, all registered sloops must be ported at Epsilon no later than 1pm Pirate Time on race day.


First Place - A Shang'd, painted sloop - and a matching Captain's Uniform (Jacket and Hat)

Second Place - Captains Uniform (Jacket and Hat)

Third Place - Choice of Captain's Jacket or Captains Hat



Saturday, Dec. 30th: The Iron Pillage!!
For our grand finale, we will host a Brig or Frig pillage in ruby. The estimated start time is 2pm Pirate Time. Any changes to the time will be announced in this thread. The pillage will continue until we run out of iron! Bring yourself and your hearties for a poetastically good time!!
----------------------------------------
When will they invent button technology that responds to urgency?

*sporting a faboo pixietar*

| | | |
| --- | --- | --- |
| [Dec 19, 2006 5:10:29 PM] | | [Link] |