Filthyjake


Joined: Jun 14, 2012
Posts: 1062
Status: Offline
---
-Filthyjake's heart o' the rainbow egg

Here you have Filthyjake, holding his egg on the dub free ocean. Portrait cost 15k no delivery fee! Crew creation Free, Captain's badge Free. Why in the world do people play dub oceans.... pay to win I guess. Ships are super cheap too sloops 11k no delivery.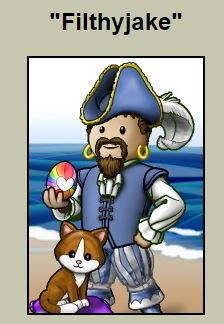 ----------------------------------------
Filthyjake all oceans (Obsidian Primary)
Filthyjake6145 (discord)

Who would have ever thought there would be a more worthless familiar then the Krackling's? But now we have owls that are farm raised.

Which ever way the wind blows...

| | | |
| --- | --- | --- |
| [Apr 28, 2018 3:50:19 AM] | | [Link] |