pegasiswolf


Joined: Jun 9, 2006
Posts: 345
Status: Offline
---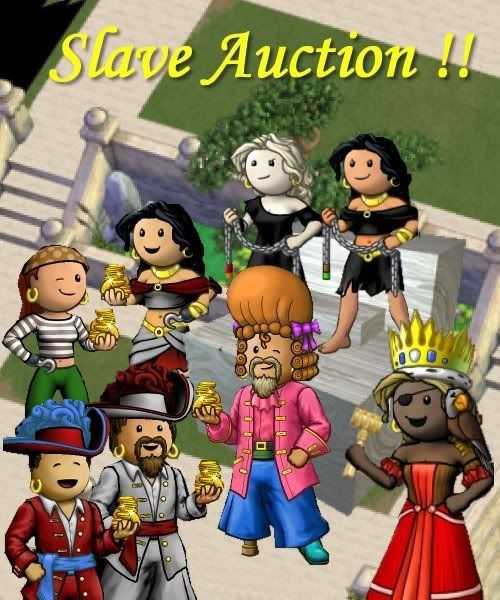 Fleet of Dreams is having a FUNdraiser!!

What : We are selling pirates!!!

When: Wednesday, February 19th, MIDNIGHT game time

Where: Dream Catchers Grandoise Hall on Admiral

Why: To fund blockades, (specifically defending Penobscot Saturday, February 22nd, 12-NOON)

How do i get there: Come via noticeboard on Admiral (will have party up)


(to volunteer to be a slave... reply here.. and/or contact me in-game)

not able to be online for the auction? want to help out and buy a slave? just send me a PM with ur 'reserve bid' for a particular pirate...


TELL ALL UR FRIENDS!!!

We will be auctioning off lots of WONDERFUL pirates.... some are even singers!! and the buyer will have a chance to request them to sing ANYTHING via Ventrilo (of course.. we will expect no severe vulgarity ie., songs with Fbomb or Nword)

---dont want a singer? no problem.. we have someone for everyone...

---got a fleet that u need moved? we have ppl with the ocean memmed.. that would happily chart a fleet of ships for their buyer!!!

---need an avatar for the forums here? we have WONDERFULLY SKILLED artists that would be more than happy to draw you a personalized portrait of your pirate....for u to use wherever u like!!!

---need someone to come and nav for you during a cade or smh? yayy we have those too :)

---just need an on-call gunner for a later date when u find yourself with no cannons to shoot? guess what we have for u!!

---just need a few ppl that you can call on to come and spent 1-2 hrs with you on ur smh or pillage? we have what you need!!!


remember this is for FUN.... so no slave can be forced to do something that is against ToS or would otherwise be 'against the fun spirit of the event'

however.. if u feel the need to pick on someone... pick on a singer... and have them sing a showtune.. or tv theme song... or something equally goofy... (if u cant think of anything..let me know... i have a list lol)

side note: ill be posting the vent info at the time of the auction... for everyone to come and listen and enjoy the fun :)




---and remember... come and job with Fleet of Dreams on Saturday.. NOON game time... help us defend our beloved Penobscot



--note-- yes i realize midnight would technically be the 20th...
----------------------------------------
Pegasiswolf- Captain of Dream Catchers and Queen of Fleet of Dreams -Emerald

host of XMAS IN JULY event

"maintaining a positive attitude may not fix all of lifes problems, but it should annoy enough ppl to make it worth the effort"

| | | |
| --- | --- | --- |
| [Feb 19, 2014 4:53:18 AM] | | [Link] |