cybrpyro


Joined: Jul 14, 2005
Posts: 3223
Status: Offline
---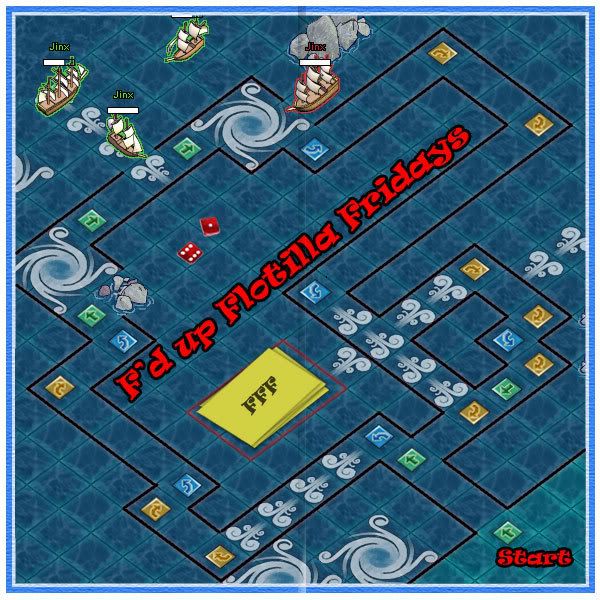 Ahoy there mates and Merry Christmas! Sorry for the short notice, but....

Since it is the Friday before Christmas What's better than getting sloshed with a bunch o' drunkin mates!

Oh, but we drink, thar be rulz!!

You'll see things like:

Creative Navving:
Every time the Captain says "oops," take 2 drinks
Enters the board within one turn of a break, take a drink

Fun with Jobbers:
Every break period that someone asks "Can we Treasure Haul" in any form, take a drink
Someone asks to chest sit, take a drink (1 per break period)
For every planking, take a drink

Sinky Sinks:
For every Green Sink, take a drink
For every Red Sink, take 2 drinks

And... to top it all off, we will play that Yarr Talk Christmas Tradition, Secret Word game. However, this time we will be paying 100k for whom ever says the sekrit holiday word the most over the course of the voyage!

So, come on out, Tomorrow night, December 20th and join us for an evening of merriment!

We will be on the notice board near 6PM pirate time. Look for us on the Merry Christmasfish!

Hope to see ya there!

-Cybr
----------------------------------------
Cybrpyro on da Cobalt ocean...as well as the rest

Perilous Puppet Theater


Freak-a-zoid wrote:
Cybr-dude puts the F. U. in fun!!



| | | |
| --- | --- | --- |
| [Dec 19, 2013 6:56:57 PM] | | [Link] |