Thalia
OceanMaster


Joined: Mar 28, 2007
Posts: 1816
Status: Offline
---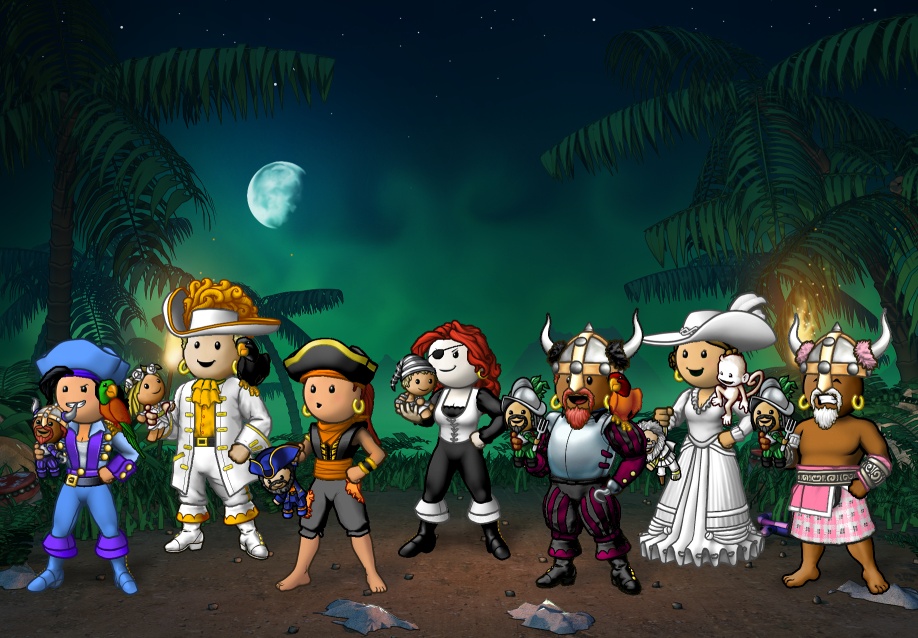 I bet most of you have already seen the wonderful new shiny treats our artists created for the Ringer crew a while ago. Ringer dolls in portraits! Wee!

Aren't they gorgeous? What a waste would it be to keep them hidden in our trunks, so it's time to spread the love and hand out some dolls, so they can be immortalized in your galleries.
I've rounded up a bunch of Ringers who are keen on handing out their dolly counterparts, but I'm afraid - being the greedy bastards that we are - we're not giving them away for free. So sharpen your pencils and needles, fire up those graphic tools or grab some modeling clay.
I've looked through many past events and decided to combine two formats which yielded absolutely amazing results in the past. We know you're talented, you proved that much many times over and we want more of that - so create avatars and dolls for us!

So, what now?
Create a doll or forum avatar for your Ringer of choice from the list of participating Ringers.
You may create one entry per Ringer and up to 5 avatars and 5 dolls total - meaning you can have a total of 10 entries (for 10 different Ringers).

How?
The technique is mainly up to you, but there are some requirements. See the category "Entry Format" below.
All entries need to be posted in the correct entry thread and entry posts need to contain all requested information.

When?
Deadline for this event is 23:59 PST on February 15, 2013.

Judging and Prizes
Each Ringer will judge his entries personally and pick his personal favourites. While we all aim to give out at least one doll (or maybe more, if your creations leave us awestruck), we also reserve the right to only give out eggs or minor prizes if we think the quality of entries doesn't warrant awarding a doll. (Yes, we're picky!) So go for quality, not quantity!

Participating Ringers and Entry Threads
There is a total of 25 Ringers participating in this event. Make sure you post your entries in the correct entry thread!


Entry Format

General information
Each entry needs to contain the following information:

Pirate name

Ocean

Name of the Ringer the entry was created for

Entry images (see details below)

Forum Avatars
If you decide to create a forum avatar for the Ringer of your choice, the avatar will need to have the following format:

No larger than 150x150 pixels

Maximum size of 60KB

Format needs to be .jpg, .png or .gif

Animated avatars are allowed

How you create the graphic is up to you. Scanned pencil drawings, water color paintings, photographs or simply digitally created art, whichever you prefer. As long as everything is your own work and created for this contest.

Dolls
If you decide to create a doll, make sure you provide the following images. Each image should have a card visible with your pirate name, ocean and 2013 on it, so we can be sure it is your original work and created for this contest.


1 image of the materials

1 image of the work in progress

2 images of the finished doll, from different angles

Optional: A brief description of the creation process

Posting images of the small/original versions of forum avatars and thumbnail images of dolls are fine. For larger images, please only post links.
Please post each entry in a separate post, even if you have more than one entry for the same entry thread.

Additional Rules

Entries need to be your own, original work and created specifically for this contest.

You may only post your own entries and not post entries on the behalf of another entrant.

Prizes will only be awarded to the pirate and on the ocean listed in the entry post.

Entries which are posted or edited after the deadline will be disqualified.

Each participant may only post a total of 10 entries, with a maximum of 5 dolls and a maximum of 5 forum avatars.

Each participant may only post one entry per Ringer (either doll or forum avatar, not both).

Handy Links
Dolls in portraits
Ringer YPPedia page
Oceanmaster YPPedia page

We can't wait to see your creations!

Of course, if you have any questions, please don't hesitate to post here!

-----

Results

Aphrodite's winners
Arcturus' winners
Artemis' winners
Atropos' winners
Bia's winners
Castor's winners
Cephalopod's winners
Clotho's winners
Cronus' winners
Demeter's winners
Eightycats' winners
Endymion's winners
Eurydice's winners
Forculus' winners
Gaea's winners
Galene's winners
Glaucus' winners
Greenbones' winners
Hera's winners
Mnemosyne's winners
Nemesis' winners
Nemo's winners
Poseidon's winners
Prometheus' winners
Thalia's winners
----------------------------------------
Avatar by Podgekins of Hunter
----------------------------------------
[Edit 34 times, last edit by Thalia at Jul 18, 2013 9:14:56 AM]
| | | |
| --- | --- | --- |
| [Jan 14, 2013 6:29:40 PM] | | [Link] |