Inquisition


Joined: Jun 23, 2007
Posts: 484
Status: Offline
---
Artwork courtsey of Anothersneak and Ants.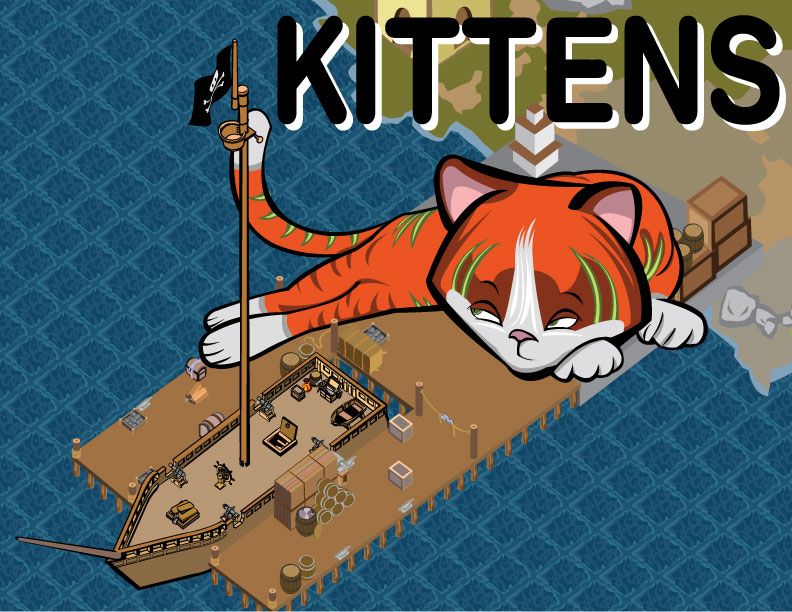 The kittens of Babylon grow bored of their current toys, and want to play with the ones everyone else got for the holidays! Like the spoiled kittens we are, we will never return them in perfect condition either!

What
A sinking, sloop only, no cannon blockade!
For one round flags must bump each other to get sinks, so remember that golden + does extra ram damage.
On the turn that a ship sinks, if yours touches it at all, you get a point. So if you do 99% of the damage but fail to be a touching ship at the time of sink, you get nothing.
Myself and several other kittens will be watching closely with our tails twitching and our paws occasionally batting at the blockade board keeping a track of points.
Points are awarded to the flag, not the vessel, so the more you field at the same time the better your chances are!
The second round of the blockade is in case of a tie in points, in which case the two (or more) parties will be able to go at it again against each other. Other flags may enter to help skew things, but only the flags that tied in points in the previous round will be able to earn points.




When
January 12th, 2013 at 10AM PST.
This allows for two rounds if necessary and will also be finished before any real blockades that may happen that day.

Why
Meow.

Prizes
1st - Can either take Olive Island or get 100k
A special trinket inscribed for the event.

2nd - 14 Harrjms and 2 Zarchis 50k
A special trinket inscribed for the event.


Other Stuff
As far as trinkets go for first and second place, there will be one per flag, and they will go to a person that multiple people from the flag tell me is acceptable, with the idea that the trinket goes into a case that everyone in the flag can see.
Registration is not required, but it'd be cool for flags to post so we know who will be in attendance.
Earning buoy points in the blockade will not benefit you whatsoever.
If the winning flag does not take Olive, the Kittens will pass their plaything along to a Brigand King or Queen.
If there is a ridiculously low turnout, such as 2 flags with one sloop each during the whole 45 minutes of Round 1, Kittens reserves the right to cancel the event and scuttle the island. We want to have many many playthings! Regardless of what happens, we will not be keeping the island.
This event is not endorsed by Cheshi. (yet)
----------------------------------------
Armegin

Dexla's artwork.
----------------------------------------
[Edit 5 times, last edit by Inquisition at Dec 21, 2012 1:37:48 PM]
| | | |
| --- | --- | --- |
| [Dec 18, 2012 11:36:42 AM] | | [Link] |