jrnjaz


Joined: Oct 3, 2005
Posts: 51
Status: Offline
---
What is it?
The Swarm?s Sloop Loop is a sloop race for teams of two pirates. The racers provide their own boat, are responsible for getting it to Paihia, and stocking it. The race will take place on Wednesday September 26th at 6pm game time, and will last a maximum of one blockade round.

Teams
Teams consist of two pirates plus two bots. The race committee will check to make sure that there are only two pirates aboard the competing vessels. No green alts are allowed ? participating pirates must have at least 1 broad stat.

Preparation
Before the start of the event, move a sloop to Paihia Island and have it ready to go. Rum and cannonballs are available for sale at the Island.

The Start
The race will be held inside a blockade board. Once the blockade starts, the committee boats will need to enter and set up the course. The Start Line is an imaginary line running between the two committee boats - Frigs - on the island side of the board. You must not cross the starting line before the starting Gun. The Frigates will fire a gun to start the race. Boats must cross the start line island side toward ocean side after the gun sounds. Boats that have crossed prior the guns are not eligible to race until they crossed the line properly. Failure to start properly will result in disqualification. After starting the race, participants may not leave the board (enter the safe zone). Boats that are bumped off the board may re-enter as long as they re-enter the board no closer to the next buoy. Boats that leave the board must serve a 2-turn penalty and must re-enter no closer to the next buoy. Boats that fail to serve the penalty or re-enter closer to the next buoy will be disqualified.

The Course
In addition to the two race committee start boats at the start finish line, there will also be an ocean side Buoy (frigate). The course involves rounding this buoy, coming back between the starting frigates and "Looping."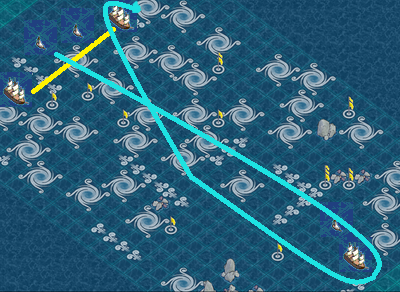 The race consists of two laps around the marks. Cannons will be ineffective, but you may ram, cut off, or bump the other boats. Remember this strategy when placing your move tokens.

Click here to see Bailet's sample race video.

The Finish
The first team to complete 2 laps and cross the finish line is the winner.

Prizes

Besides the honor of being the best sailing crew in the WORLD (or at least on the ocean):

FIRST: 2 custom renamed sloops plus a Trinket for each team member, commemorating the event,

100,000 poe

SECOND: 2 Globe tables Plus a Trinket for each team member, commemorating the event,

50,000 poe

THIRD: 2 ships in a bottle Plus a Trinket for each team member, commemorating the event,

30,000 poe



Interested teams can sign up by replying to this thread.


(Edited the unintended aspect of my diagram,

2nd edit to add poe to prize packages

)
----------------------------------------
Johnjuan
On the Emerald Ocean
Scoundrel and trouble maker.
----------------------------------------
[Edit 3 times, last edit by jrnjaz at Sep 14, 2012 6:03:56 PM]
| | | |
| --- | --- | --- |
| [Sep 6, 2012 7:39:04 PM] | | [Link] |