Santaclausz


Joined: Nov 23, 2011
Posts: 6
Status: Offline
---
Who does not know penguinBr? The best pirate of all time in Puzzle Pirates, led a bunch of useless to the top of the top ten. Nobody can predict their movements in Bnav and not even survive a stroke of his sword. This is Penguinbr deserves my respect and all this damn forum.

History: Penguinbr was born into a humble family of nobles who robbed the people. From an early age began training with his mentor, Chuck Norris, to navigate the waters of Meridian. Over time the student surpassed the master (in this case, it did not happen) and then joined with a small crew of Brazilians. Seeing that its level was higher than the Crew at all he decided to quit and follow his rise to stardom, trained, addicted, used drugs, alcohol, steroids and all that is bad in the world and pyro cases began to listen to Green Day nobody knows but himself says that Green Day and a lot of pot makes him 100 times faster while in a duty. When he reached his goal he started to get worse, missed school classes to sit in the street playing. He went to the bathroom but did not let go your Laptop. Finally he ended up addicted to poker, betting hundreds of thousands of Poes, investing his own daughter in the game and lose everything.

He became a beggar, living on alms to buy rum in Lima Island until he met a famous Crew called Flag Veterans of the best known, Imperial Coalition. He accepted and spent months in the Crew to take the lead. In time he got everything he had lost and gradually returned to stardom.

Penguinbr is the best pirate of the Meridian. Now he thinks high, he wants to overcome the ocean masters.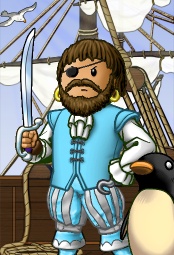 I need to talk about Monlizzy?

| | | |
| --- | --- | --- |
| [Aug 8, 2012 12:08:01 PM] | | [Link] |