elfeesh


Joined: May 24, 2005
Posts: 956
Status: Offline
---
I have come to the conclusion that you, Whitehaze, are in fact Sardinez. I shall in the following post point out how and why I have come to this conclusion for all the ocean to see, and then proceed to claim the bounty for my own.

To start, in the recent Surtsey blockade thread, you posted at the following time:

[Jun 4, 2011 7:04:33 PM]

At this point you seemed to stop posting and be quiet, but barely half an hour later, Sardinez posted, seemingly taking up your argument, at this time:

[Jun 4, 2011 7:41:29 PM]

Overmore, Sardinez stated:


Well, if your defination of "cading weaker flags" is defined as your ex flag paywar-ing everyone else when ya losing, I'll take your comments as a compliment.


Seemingly as though she belonged to Legacy, and we all know that you, Whitehaze, are a part of Legacy. In the crew Nightmare in fact. I would know, as I am also in this crew.

Next! Common speculation is that Sardinez is from the UK. I can't be bothered to find the quotes, but I know that Anchovia guessed correctly that Sardinez, I mean you, is indeed British. I know you are British because:
A) You sound British on Ventrilo
B) You are often on at times a British person would be
C) You once confessed to me that you are, indeed, British.

Next! This little nugget of informational gold!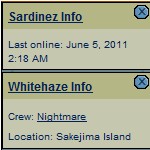 Laid bare to the public! You are online a mere 3 days after Sardinez last was! You have been found out Whitehaze, if that is your real name!

As we all know, you are a dumbass forum poster! Your posts are often incoherent and foolish, much like Sardinez' are, your over-aggressive nature shall be your downfall knave!

Whitehaze:


No actually, im not missing the point. The people 'dying' for blockades are those that don't normally get a chance. Therefore blockading an outpost is more then reasonable. If you want to make Legacy work for their islands, do something about it.


Sardinez:


Now, ya pissy coz I said you sux. Well, ya still do. Go ahead & spin more tales.



The mystery is unraveled! The weeks of living in fear and cruel mystery of the Sardinez plague has been cleansed, and the daily forum-goers no longer have to fear your evil wrongdoings and immature posts! No fear Luxory, I have cleared your name from those nay-sayers looking for a scapegoat!

Now I claim the bounty! You may contact Elfeesh at the following address:
Whitehaze's Manor House, Sakejima Island, Viridian. Post code SI1 ELF.

I would like to thank the following people for helping me solve this heinous crime:
The many forum posters whom guessed at Sardinez' identity, Whitehaze for being so blatantly a LIAR AND A FRAUD, Anchovia for bringing the fact he is British to my attention, and to Luxory for taking the fall whilst I cunningly found out the true villain.
----------------------------------------
Elfeesh

"We are all worms. But I do believe I am a glow-worm."

| | | |
| --- | --- | --- |
| [Jun 8, 2011 10:12:27 AM] | | [Link] |