Sverdrup


Joined: Jan 3, 2010
Posts: 649
Status: Offline
---
Exploring the fate of strange women in ponds. All friendly and hostile shooting parties more than welcome. Lets turn this into one big SNAFUBAR.

Who: Heisenberg's Uncertainty
When: May-14, noon game time
Where: Polaris Point
Sinkin': Yes
Payin': 2500 Pieces-Of-Eight per round
Jobbin': Davantage

Our Island Plans are Pot Se3rit:

King: The Lady of the Lake, her arm clad in the purest shimmering samite, held aloft Excalibur from the bosom of the water, signifying by divine providence that I, ..., was to carry Excalibur. That is why I am your king.

Peasant: Listen. Strange women lying in ponds distributing swords is no basis for a system of government. Supreme executive power derives from a mandate from the masses, not from some farcical aquatic ceremony.

King: Be quiet!

Peasant: You can't expect to wield supreme power just 'cause some watery tart threw a sword at you!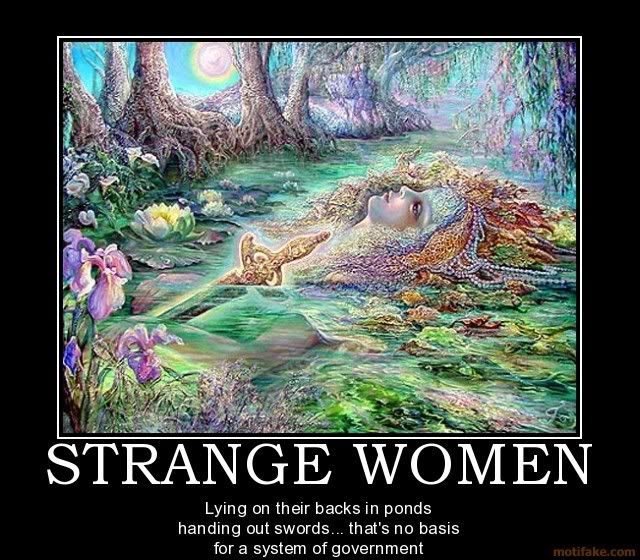 Who's right, the King or the Peasant ... and who are we to tell who is who?

EDIT-1: Changing date to a time the blockade window is actually open.
EDIT-2: SNAFUBAR
----------------------------------------
Sverdrup, CPTN of Schroedinger's Cat, Heisenberg's Uncertainty, Meridian
----------------------------------------
[Edit 3 times, last edit by Sverdrup at May 14, 2011 9:59:56 AM]
| | | |
| --- | --- | --- |
| [May 10, 2011 9:35:35 AM] | | [Link] |