Mortesecca


Joined: Mar 3, 2008
Posts: 7
Status: Offline
---
This event is coupled with the upcoming auction of a red monkey... or presumed such.

I, Mortesecca, professor emeritus of Demonology and Necromancy at Dis Educational Institute, have in fact found evidence that the familiar I am about to put up for sale is not a simple monkey, but rather a demonic creature.
As everyone knows,

A familiar animal, in folklore, is an animal believed to be possessed of magic powers such as the ability to change its shape. It may be a temporary form assumed by a spirit, devil or trickster god.


In confirmation of this claim, I have brought a grimoire page from the Cursed Isles depicting a veve of the beast.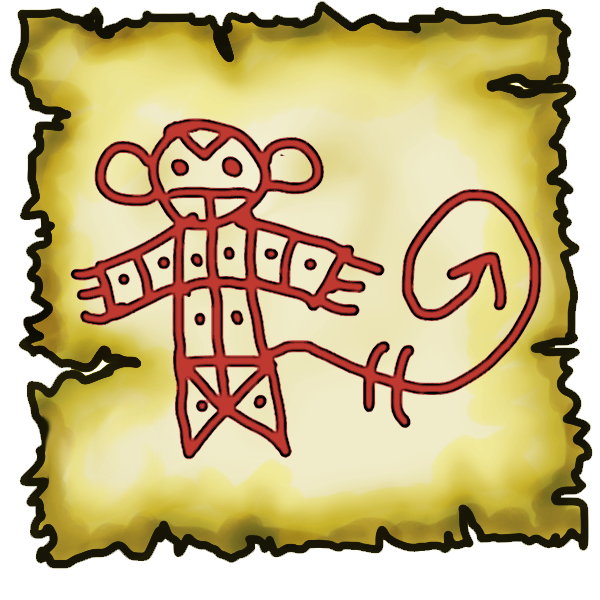 Before auctioning the devil-monkey, I would like to make sure that I am going entrust it to a fellow demonologist who knows how to deal with such a malevolent spirit.
To prove your knowlegde on the subject, I have created a trivia that will put your worthiness to...


...the Test.



Rules and score
The test is made of 14 questions. Each question has a score attached, according to its difficulty. Question number 9, which requires multiple answers, has a fractional score.
The maximum score and final mark is 10.
The participant with the highest mark is the winner. In case of a tie, the winner will be determined according to the timestamp of the test.
Everyone can participate, no matter if they are going to bid on the auction or not, but since the more people bid on the monkey, the higher the prize will be, telling your hearties about the auction is a good idea.
The deadline is 11:59pm game time of July, the 25th. The auction is due to open on Friday, 23 at around Noon.
The results of the test will be posted only after having closed the auction.

Prizes
The overall winner will receive 2% of the selling price of the monkey once the auction will be closed and the transaction made. If the auction ends with no bids, the winner will receive anyway 2% of the starting bid price (5 Millions), which is 100.000 Pieces of Eight.

Discount on the sale
The winner of the auction will receive a discount on the selling price equal to his/her grade on the test (e.g. the monkey is sold for 8 Millions and the winner has scored 10, the final price will be only 7.2 Millions).
If the winner of the auction is also the overall winner of the test, then he/she will receive a total discount of 12% on the bid.




----------------------------------------
Mortesecca
Necromancer
Relic hunter
----------------------------------------
[Edit 4 times, last edit by Mortesecca at Jul 31, 2010 9:02:51 PM]
| | | |
| --- | --- | --- |
| [Jul 16, 2010 11:33:24 AM] | | [Link] |