Feylind


Joined: Oct 8, 2006
Posts: 53
Status: Offline
---
"I wonder where THAT is."





Winter blows his cold breath across the archipeligos. Snow and ice transform the islands into scenes of beauty and wonder.

So put on your coats and mittens and go exploring. Try and find some of the same beautiful spots I saw on my own wanderings.

How it Works:
1. On Dec. 30, I will post 30 small screenshots of spots around Midnight Ocean.
2. The first 15 are worth 1 point each; the second 15 (which are smaller) are worth 2 points each.
3. Search the islands to identify each location.
4. Send a Private Message (PM) to me (Feylind) with your answer list. Be sure to include your pirate name in the PM.
5. You may submit more than one PM, but only your last one will count. I reserve the right to disqualify anyone who spams my in-box.
6. Prize winners will be chosen based on number of points earned by the event deadline. In case of ties, prize placement will be chosen randomly.

The Screenshots:

1 Point Locations - island name is sufficient to identify these.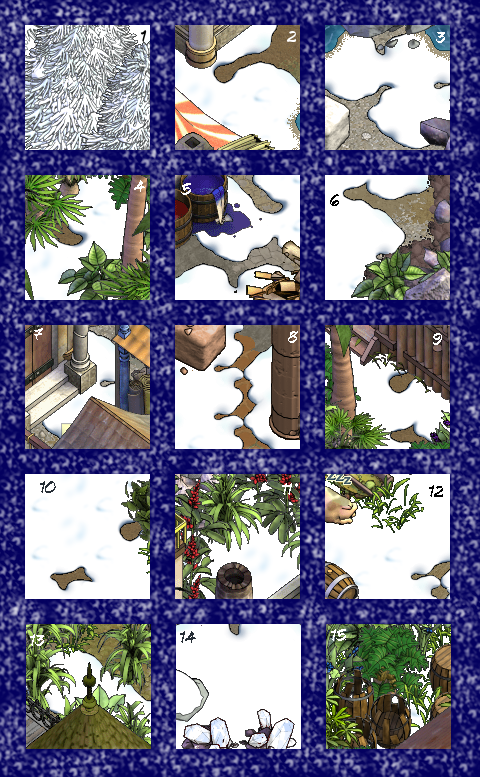 *** It has been brought to my attention that someone cleaned up the pile of rubble in the bottom corner of #5. So be aware that identifying that location may be extra-tricky. ***

2 Point Locations - provide a brief description of the location. Be as accurate as you can.



The Deadline:
Deadline for PM's is 11:59:59pm on Saturday, Jan. 3. Entries recieved after that time will not be counted.

The Prizes:

1st: Scarab furniture ('cause it's the nicest thing I have to give away atm)
2nd: Holiday-colored trinkets (white conch shell, green starfish, red coral, candy cane)
3rd: Sloop - Elegant Flounder (Is it possible to flounder elegantly?)
4th: Snow Wolf (yes, one of the actual white dogs Bia magicked up)
5th: Potbelly stove (to warm up after your arctic adventure)
6th: Red tropical plant ('tis the season)
7th: Fruitcake! (it's a couple years old but they just get better with age, right?)
8th: Silver Bell trinket ('cause they are pretty!)
9th: Lantern trinket (to assist in your next search)
10th: 5 whisking potions (to replace what you likely used searching)

Depending on the number of entries recieved, I may add more prizes at my discretion.

Disclaimer:
I have no control over the weather. The snow should last at least through New Years. But when it will melt after that, I can't say. So you might want to do your searching sooner rather than later.
----------------------------------------
Feylind

Midnight Ocean Event Addict
----------------------------------------
[Edit 4 times, last edit by Feylind at Jan 4, 2009 5:05:43 PM]
| | | |
| --- | --- | --- |
| [Dec 29, 2008 10:18:10 AM] | | [Link] |