Posted by hidemyhoney at Dec 27, 2017 2:42:45 AM
Re: Distilling on Obsidian - Has the puzzle changed?
Zxyz:

I haven't seen any change to spawns.



Now, I am seeing 10+ spices each puzzle and it's blocking EVERY move that I know.



This happens very rarely (in my experience), but feel free to post a video of this happening. Often if I'm stuck it's because I've made a mistake or a series of poor decisions to get myself in that situation. It could be that you are managing the spice spawns poorly.



I'll just leave this here then :l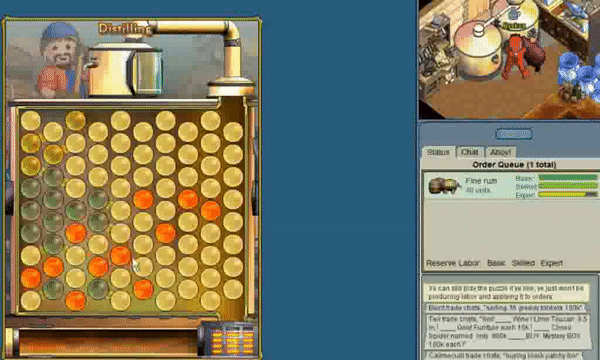 Voice SFX kept going "Spicy!" with me going "oh, is it?"



Well with this current puzzle curve IF you got a CC13, you probably would have gotten an incredible from my testing, (depending how many you already burnt).

To another point I feel this Distilling Curve is unfair to the majority of Distillers, I bet you current Meridian/Emerald/Cerulean Ultimate Distillers about 85-90% cannot reach Ultimate or have given up on trying to get ultimate. Another frustrating thing is that CC14 is borderline incredible, while CC13 is only if you get a lot of spices, I do hope overtime CC13 is 100% incredible on Obsidian by then you'll probably have a lot more people Distilling.
With the white spawns I've noticed on average there is a bit less, and I've gotten alot more situations where, you have a perfect game (meaning you can't move any more pieces across), and end up only getting a CC11/12 which is very frustrating on Obsidian, if all perfect games you could get at least CC13 then I would accept it.
Hopefully for every ones sake puzzle curve improves overtime since well it took 6 months to go from CC14 incredible, to CC13 a lot of spices incredible as the borderline to ultimate.

Edit - Typo :/
----------------------------------------
Support Sov! and I miss Jake :(

Bring the positives from obsidian ocean to main oceans!

Idk why people use alts to be relevant bashing everything.......