Posted by TexasBeesh at Nov 11, 2013 8:54:28 AM
Orange Monkey with Wine Hat
I wanted to put this out there now. I know Ice Blue will hit in January! :)

I have an Orange Monkey with Wine Hat. I would like to trade him for a Monkey with an ICE BLUE hat when the time come. (If that ever comes out) So when the ICE BLUE boxes roll around and someone gets a ICE BLUE hatted monkey.... ;D I will gladly trade.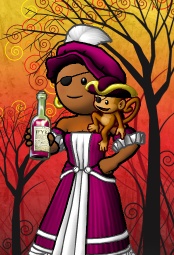 I do have some Wine Clothes for sale at Dressed to Kill on Namath.
----------------------------------------
Seatexan - on the Midnight side of Cerulean
LOW RACK PRICES AT DRESSED TO KILL - NAMATH
Always looking for Pollack Sloops!