Posted by elfeesh at Oct 30, 2011 6:53:43 PM
Re: The Pirate Diplomat brings to you.... The Daily Pirate! (Mix of diplomacy and rumour stomping news)
I agree with everything Martobain has said. Our stories both encapsulate and explain in great detail. Our ability to go deep both in journalism and in the course of life (such as Martobain's conception) makes us excellent candidates for such a task. I hope you will consider our applications with good will and deliberate justly. You can see a list of our necessary items to begin our careers as journalists. I hope to hear from you soon.

Sincerely,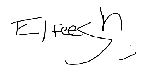 Elfeesh, Prince of Dilemma.
----------------------------------------
Elfeesh

"We are all worms. But I do believe I am a glow-worm."