Posted by ellopoppet at Jul 16, 2008 6:50:36 AM
Re: YPP's Greatest Hits! - Entry Thread (Deadline July 20th)
Athens of Hunter

I chose the U Giv Doll? because I missed the event deadline by 15 minutes last year....

The Om created for was Eurydice, the aim was to make her look like the pirate, because we all want to be pirates!

Items used
Red, Black, White, Brown Cloth.
Red, Gold, Black Thread
Red, Black Ribbon
Black String
Two sets of colored eyes.
TONS of Black Fuzzy Yarn
Six eyelets
Map button
Paper flowers
Plastic eyebrows
Sea Shell Earrings

Starting
Empty Body
Plain Dress
Corset without eyelets and ribbon
Ribbon and Lace
Working on the hair
Starting monkey, excuse the mess the fabric was a mess.
All done and looking for loot!
Close up
Proof that I didn't just redye last years DQ'ed entry.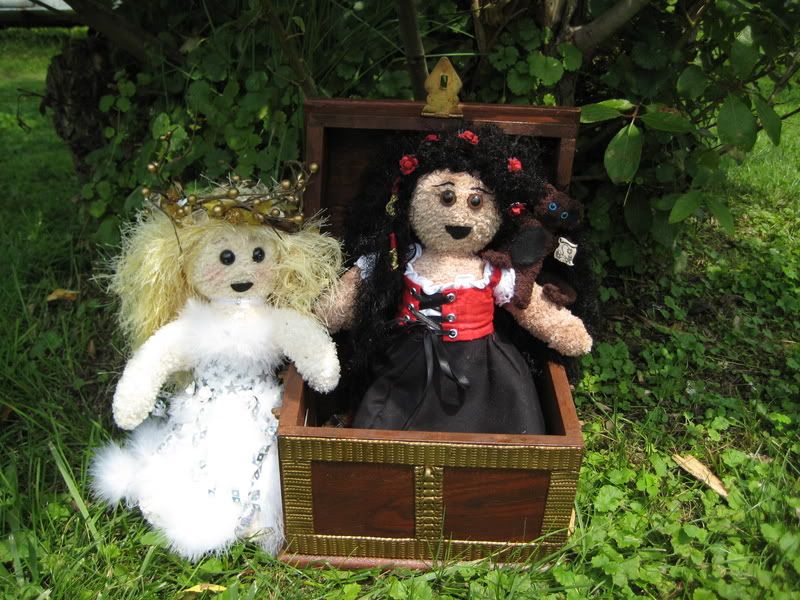 I started off with two fuzzy socks that I dyed brown to match her skin color and added eyes. Next I started threading her hair which was a waste of time because I changed it all later... You'll be able to see in the photos.

After filling the doll with fluff and creating the legs I used a second sock to add on her arms. I created a under-shirt for her and a pair of panties to keep her modest.
Next I created a long skirt, at this time I also realized I didn't like the hair she had and shaved off what she hair and replaced it with pure black.
Next came the little red corset, and all of the shinny ribbon. I pounded in the eyelets and laced up her corset. I placed a hair wrap in her hair and tied a few sea shells to it and from there started creating her monkey Cacao.
To polish her up I "tried" to create shoes, added a map button with the monkey, dotted her hair with paper flowers and added eyebrows. All in all she stands about a foot tall and her monkey is around 3 inches.
----------------------------------------
~Athens~ Hunter

Want to know who makes my avatars?