Posted by graydarka at Mar 12, 2008 12:25:12 PM
Re: Animation Avatars - Win a Bia Doll!
My inspiration is a recent cartoon I suspect very few people here watched. It's Nickelodeon's Catscratch. Bia apparently moonlights as an older and considerably tanner version of the Human Kimberly, complete with missing teeth. Poor Trebuchet has been replaced by Gordon, Waffle and Mr. Blik. He/she will get over it eventually.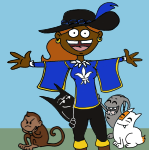 Edit: Pirate name and ocean would be useful. Heh, oops. This entry was brought to you by Sancha of Midnight.
----------------------------------------
Sancha, High Priestess to the God JR, Ironside, Midnight. Avatar by me.


Leif flag officer chats "I've never laughed so hard I had a vowel movement"


WWJRD?
covert avatarium operator