Posted by kgarrett1969 at Dec 18, 2007 9:15:48 AM
Re: December Daily Doodles 2007 - contest thread week 3
Pirate: Hawkings
Ocean: Viridian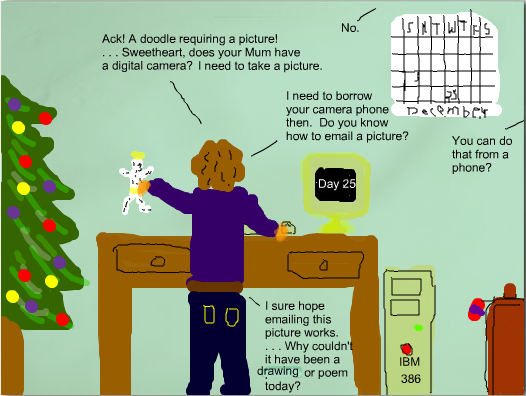 This picture represents what happened to me last year on for the Christmas Day doodle. I was in full panic mode for about 2 hours trying to figure out how to get a picture of my Apollo Doll posted before I remembered my wife's cell phone could take pictures and I could try and email it to myself.

Oh and Apollo introducing me to ArtPad has been an absolute lifesaver in getting computer drawn art in for doodles. I may have changed your life with UGT2007 but you changed mine with ArtPad first. :-D
----------------------------------------
Hawkings
Fleet Officer of Silver Dragons
Citizen of Meridian

Apollo wrote, "Hawkings has changed my life. ;)"